Update
: Fifty years ago this week—July 16, 1969—the world watched as
Apollo 11 launched towards the skies
. The rest, quite literally, became history. Ars has been looking forward to the 50th anniversary of the moon landing for quite some time with our 2017 docuseries, Apollo: The Greatest Leap. With the landing anniversary (July 20, 2019) this weekend—everyone had their
anniversary parties
last night, right?—we've been resurfacing one episode per day of our six part series about the lead up, the landing, and the lasting legacy of perhaps humanity's greatest scientific achievement. Today, the documentary looks at what's next—why hasn't mankind stepped foot on the moon in decades? This story and video first appeared on Ars on February 13, 2018.
And then it was all over.
After the drama of Apollo 13, the final four human missions to the Moon in 1971 and 1972 flew smoothly. With each successive, increasingly routine landing, astronauts made longer forays out onto the dusty lunar terrain and delved deeper into the scientific secrets hidden there.
By the time the crew of Apollo 17 returned to Earth in the Command Module America, much of the country had stopped noticing. During a CBS News program about the final human mission to the Moon, Walter Cronkite asked the rocket scientist who led development of the Saturn V rocket, Wernher von Braun, why the public had become so blasé about spaceflight just a couple of years after the first human landing.
"I think it's the excitement of the new," Von Braun replied. "It's like getting married and being married. The love is still there, the excitement is still there, but it's no longer the honeymoon."
In retrospect, humanity's incursion into deep space was astonishingly brief. The first mission to send astronauts around the Moon, Apollo 8, launched on December 21, 1968. The final lunar spacecraft splashed down in the Pacific Ocean on December 20, 1972. It had taken modern humans 200,000 years to develop the technology to go to the Moon, and then we exercised that capability for precisely four years before reverting back into a single-world species.
For von Braun and many others who worked on the Apollo program, NASA's honeymoon days flew by all too quickly. Decades of discouragement followed as all the energy spent on deep space exploration, and all the momentum of Apollo, slowly ebbed away. Although it may not have been apparent to most, this process actually began before the Eagle landed in 1969, when the space agency began its long struggle to find a suitable encore to the Moon.
Even in 2018, it has yet to find one.
A Navy man
Having lived through all of this, the headlong rise of NASA and its gradual fading away, Bob Thompson is angry about it even today. At the dawn of NASA, Thompson was tasked with "recovery"—the long list of complex tasks and even more complex logistics required to pluck spacecraft and people out of the water after splashdown. When Ham the chimpanzee flew into space in 1961, Thompson pulled him out of the capsule after it landed in the ocean. A few months later, when Gus Grissom nearly drowned after his spaceflight, Thompson met the astronaut as he pulled off his boots and sea water poured out. Later, NASA asked Thompson to help find an encore to Apollo, and this has consumed the second half of his long life.
Thompson is now in his 90s. He grew up in a small, southwestern Virginia town during the Great Depression. This village named Bluefield was, in reality, surrounded by black bituminous coalfields. Thompson escaped a gritty future working in them by virtue of a keen mind. Occasionally, in the 1930s, airplanes flew over the rolling hills where Thompson lived and played, capturing his fancy. Without really knowing what aeronautical engineers did, or how they designed aircraft, Thompson decided he wanted to become one.
He graduated from high school early, and in 1941 he enrolled at the Virginia Polytechnic Institute, known as Virginia Tech today. While studying engineering and playing on the baseball team with future Flight Director Chris Kraft, Thompson got his call from the draft board. After earning a bachelor's degree in 1944, Thompson joined the US Navy. He saw some limited action in World War II as a line officer aboard destroyers, mostly in the Atlantic.
Like Kraft and some of the other bright and talented Virginian engineers of the post-war era, Thompson wound up working for the predecessor to NASA, the National Advisory Committee for Aeronautics, at Langley Field in Virginia. More than a decade later, he still toiled there when the launch of Sputnik forced the United States to get serious about space.
In 1958, a few dozen engineers at Langley were transformed into the core of a new agency, NASA, tasked with an American response to Sputnik. Thompson was soon called upon to join them. He recalls his first meeting with Chuck Matthews, weeks after the task group formed. Matthews had been put in charge of operations, which entailed everything from launching to flying and landing spacecraft. Matthews said Thompson's name, as a Navy man, had been put forward to run the program to recover capsules from the ocean.
Thompson asked Matthews what that would entail. "Chuck had a pretty candid answer," Thompson recalled with a laugh. "He said, 'Well, if we knew, we probably wouldn't need you.'"
Soon, Thompson was meeting with his former baseball teammate, Kraft, and other young engineers to plot out the flight and landing of a one-person Mercury capsule—discussing where to launch it from, where it would land relative to the surface of the Earth, and if you recovered it, where that would be.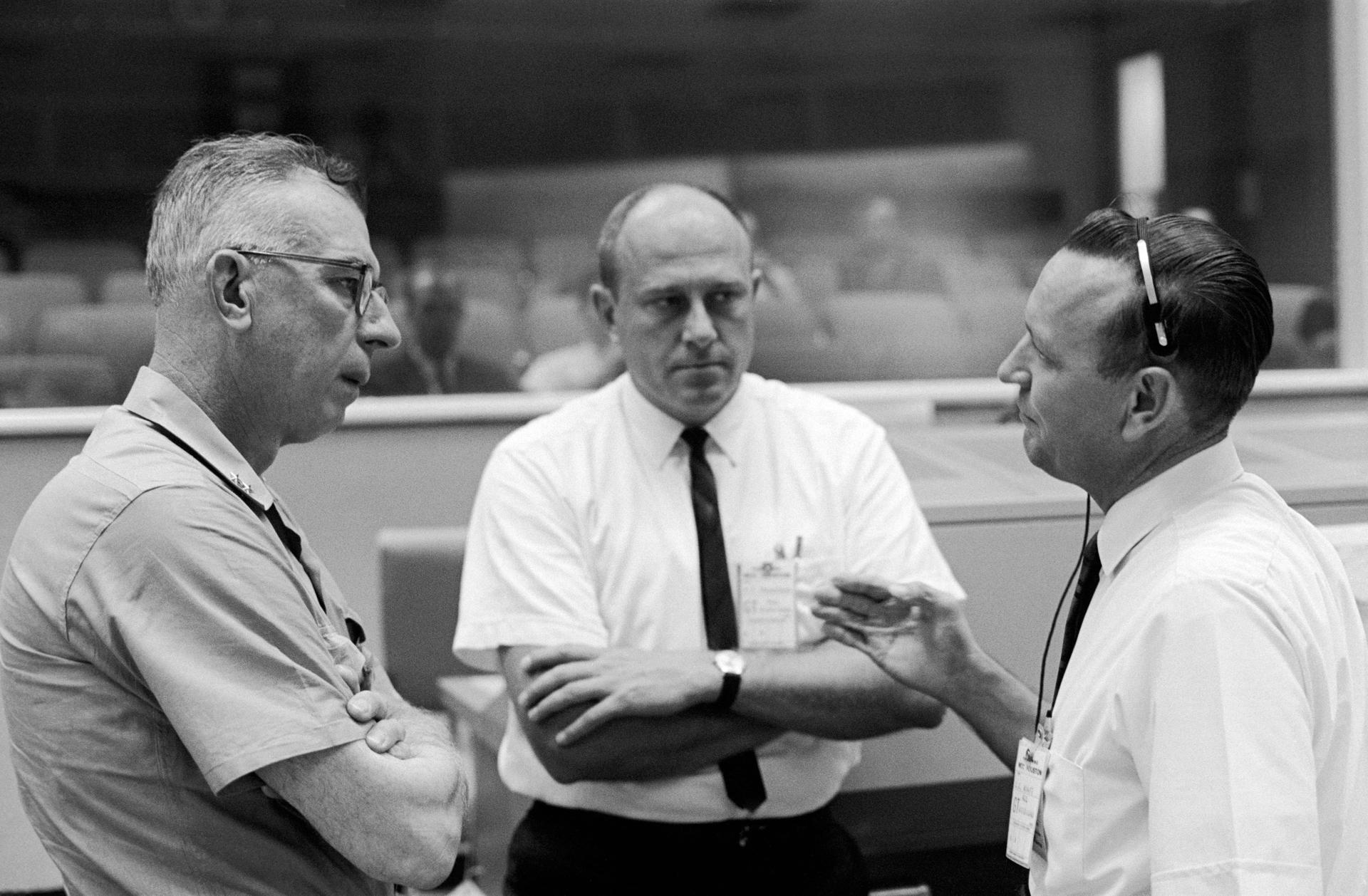 "It didn't take very long, as I looked at ground tracks, and looked at probabilities, and looked at what we were doing, that this guy could be anywhere from the palmettos around the launch site to the middle of Africa to the Indian Ocean to wherever," Thompson said. "Recovery was going to be a worldwide activity, run primarily by the Defense Department."
Thompson understood how the US Navy worked and how to play nice with US Defense ships and their commanders. He would ask for, not demand, their help, and he generally got it. Soon, he was leading recovery operations for the first launches of animals such as Sam and Ham. Eventually, Thompson would manage recovery operations for NASA through the Mercury and most of the Gemini program. He also did much of the planning for Apollo sea operations.
Listing image by NASA / Aurich Lawson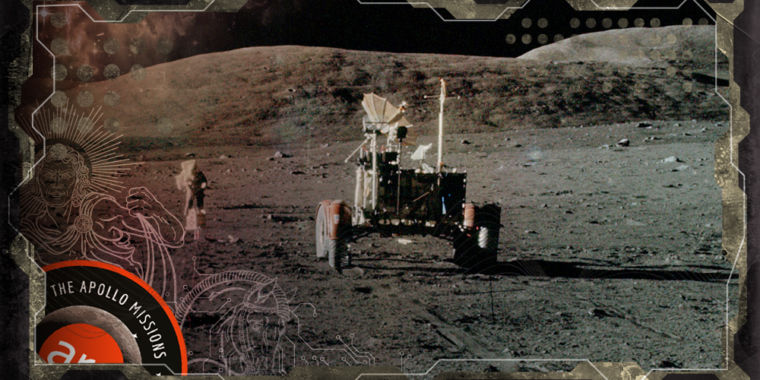 A budding bureaucracy
By 1966, leaders at the Manned Spacecraft Center in Houston needed help in planning spaceflight activities beyond Apollo. More than three years before NASA landed on the Moon, it already wanted to know what came next. In typical NASA "do more with less" fashion, the agency wanted to explore the potential ways Apollo hardware could be used for other purposes, and this effort became known as the Apollo Applications Program (AAP). Thompson was assigned to Apollo Applications in 1966, and he took over management of it in 1967.
During the previous nine years, the space agency had undergone a dramatic change from an organization of a few dozen engineers scrambling to catch the Soviet Union into a sprawling bureaucracy of 400,000 men and women intent on reaching the Moon. For a time, NASA Headquarters managed to wrangle the three primary space centers—one in Houston, which planned and conducted missions and where Thompson now worked; the rocket design center in Huntsville, Alabama, where von Braun and his Peenemünde team labored over the birth of the Saturn launch vehicles; and the launch facility itself at Cape Canaveral.
But even by the mid-1960s, the bureaucracy had begun to win out as a once-young organization took on years. The three centers that had allied so well to design the Apollo spacecraft (Houston), build the Saturn V vehicle (Huntsville), and launch them (Cape Canaveral), began to fray. The split came over finding an encore to Apollo, as the natural inclination of a bureaucracy to perpetuate itself began to manifest.
In 1969, German rocket scientist Wernher von Braun poses in front of the Saturn V vehicle as it is readied for the historic Apollo 11 lunar landing mission. This gallery highlights the Saturn V booster.


NASA

During Apollo 6, the five F-1 engines of the huge Apollo/Saturn V space vehicle's first stage leave a gigantic trail of flame in the sky after liftoff.


NASA

This close-up view of the F-1 engine for the Saturn V S-IC (first) stage shows the engine's complexity—and size.


NASA

A view of stacking the major components of the S-IC (first) stage of the Saturn V vehicle at the Michoud Assembly Facility (MAF). The view shows placing the liquid oxygen tank on the intertank and the fuel tank assembly.


NASA

This photograph is a view of the Saturn V S-IC-5 (first) flight stage being hoisted into the S-IC-B1 test stand at the Mississippi Test Facility (MTF), Bay St. Louis, Mississippi. Note the men on the stairs, to the left.


NASA

The hydrogen-powered second stage is lowered into place during the final phase of fabrication of the Saturn V moon rocket at North American's Seal Beach, California facility.


NASA

A view of the fully stacked Saturn V rocket for the Apollo 4 mission.


NASA

And finally, a launch. This shows the Apollo 6 mission launching.


NASA

Some specs on the mighty Saturn V launch vehicle.


NASA
The Marshall Space Flight Center felt the need to find a post-Apollo program the soonest, as early as 1965. Although the Saturn V rocket had yet to undergo a test flight, and would not until 1966, the mighty rocket had passed a static test fire at full thrust and full duration. Its upper stage, too, had been fired, stopped, and restarted to simulate a mission of boosting an Apollo spacecraft toward the Moon. The Moon rocket was close to ready.
Unfortunately for von Braun's more than 7,000 employees in northern Alabama, they had no major projects to work on after the Saturn V. According to a NASA history, one headquarters official characterized the Marshall Space Flight Center in 1965 as "a tremendous solution looking for a problem." They were at the forefront of a tidal wave that NASA would have to confront over the next half-decade. With Apollo, the country had built up a prodigious spaceflight capability, but the enterprise was predicated on ample funding to support it—and a grand goal toward which to aspire.
Amid uncertainty about its future, Marshall began pushing the concept of "Apollo Applications"—a plan to employ the Apollo hardware to fly missions other than Moon shots. Von Braun espoused using the spent upper stage of a rocket as an in-space habitat. And naturally, he thought, if astronauts were going to be living in rockets, the Alabama center should share the responsibility for training astronauts with the Houston center.
Thompson, who took a front-row seat from almost the outset of this drama, offers this blunt assessment: "Apollo Applications in 1966 was basically an effort on the part of George Mueller at headquarters, and Wernher von Braun at Marshall, to find work for Marshall Space Flight Center," Thompson said. "Bob Gilruth (director of the Manned Spacecraft Center) in Houston had plenty of work to do. He didn't want to get into Apollo Applications right then."
Houston was, in truth, completely swamped at the time. In the aftermath of the Apollo 1 fire, Gilruth still had to fix the Apollo Command Module, complete development of the Lunar Module, and plan the lunar missions themselves. But soon, politics would demand that Gilruth, too, begin to think about life after Apollo.
Budget woes
When President Kennedy told Congress in 1961 that he intended to send a man to the Moon by the end of the decade, NASA received less than 1 percent of the federal budget. However, as the Gemini program began flying and NASA ramped up work on Apollo, the agency's percentage of the federal budget spiked to 4.3 percent in 1965 and then peaked at 4.4 percent in 1966.
Once NASA started to land on the Moon—fulfilling Kennedy's goal—agency leaders knew their budget would receive a haircut in future years. But the falloff accelerated as the United States became more deeply enmeshed in the costly Vietnam conflict (troop numbers increased eightfold, from 23,000 to 184,000 in 1965 alone). By the time of Apollo 11 in 1969, NASA's share of the federal budget had been nearly halved, to 2.3 percent, and fell below 2 percent the next year. Today NASA receives less than 0.5 percent of the federal budget. Amid these declines, NASA's primary spaceflight centers have, again and again, fought fiercely to protect their slices of the shrinking pie.
In the mid-1960s, as von Braun sought work beyond rocket propulsion, he focused his efforts on building some kind of orbital space station and training a corps of astronauts to live and work there. The general idea for what came to be known as the "wet workshop" involved repurposing the third booster of a Saturn V rocket, the S-IVB stage. This served as the final stage in an Apollo lunar launch, burning to put the spacecraft into Earth orbit, and then firing a second time for a translunar injection. This stage had a large liquid hydrogen tank with a pressurized volume of 281 cubic meters, about one-third the size of the International Space Station's internal area. (The term "wet workshop" was used because the S-IVB stage would be launched full of fuel and would use that fuel to help put itself into orbit; the tank inside of which the astronauts would build their habitat would have therefore started out as a "wet" tank. This is in contrast to an alternate "dry workshop" plan where the S-IVB would be outfitted as a space station on the ground and launched "dry," as payload, rather than as a fueled and functional booster stage.)
Von Braun and the Marshall engineers envisioned launching astronauts in an Apollo spacecraft to dock with a spent S-IVB in orbit to experiment with the tank in space suits. Later flights could outfit the tank, pressurize it for habitation, and eventually set up crew quarters and laboratories.
The scope of these plans didn't really dawn on the Houston center until a meeting in February, 1966, between von Braun and Gilruth. The latter center director was still fully focused on lunar missions that would not begin flying for three more years but had set aside time for a full day of meetings on modifying the S-IVB upper stage into a wet workshop, including adding an airlock.
During these meetings with Gilruth, von Braun made the case that NASA would be best served by having the wet workshop program managed by Marshall. In his exuberance, the German also talked about his plans for orbital workshops and training the astronauts who would fly in them in Alabama. This, Gilruth could not allow. In the end, von Braun had to relent, and much of the early Apollo Applications work went to Houston.
"Make work"
Despite these differences, the early plans for AAP reveal outsized ambitions that would have kept all three of NASA's human spaceflight centers busy. The initial flight schedule called for 13 Saturn IB launches and 16 Saturn V flights. Of these missions, only four would fly excess hardware from the Moon program, with the remaining 25 missions requiring new orders for dozens of Saturn rockets and Apollo spacecraft.
Soon, however, these plans ran into a sobering budget reality. George Mueller, NASA's chief of human spaceflight, sought $450 million in fiscal year 1967 for AAP. Ultimately, he could not get the White House on board, and NASA ended up receiving less than a tenth of that for AAP, barely enough to keep some baseline planning going.
The political reality began to hit home, too. In deference to Apollo, scientists had shelved some of their exploration ambitions during the first half of the 1960s, but now they were eager to send large probes deeper into the Solar System. The human exploration program had gotten the Moon—now astronomers and planetary scientists wanted the rest. Some dismissed the scientific value of humans doing experiments in low-Earth orbit and characterized AAP as "make work" for the human program that would only squander NASA's diminishing capital.
In Houston, Gilruth was among the opponents of the "wet workshop" plans under way at Marshall Space Flight Center. Some of Gilruth's engineers, like Thompson, didn't believe re-purposing a spent upper stage would be nearly so easy as the Alabama engineers thought. Moreover, noting the slim AAP budget, Gilruth felt that continuing to churn out Apollo hardware was not a prudent plan going forward—better, he thought, to build a permanent space station in low-Earth orbit that was designed specifically for that task.
"AAP, as now constrained, will do little more than maintain the rate of production and flights of Apollo hardware," Gilruth argued. "Merely doing this, without planning for a major program, and without doing significant research and development as part of AAP, will not maintain the momentum we have achieved in the manned space flight program."
In the end, that momentum would be squandered and the ambitious AAP gutted. NASA would never build any more Apollo hardware than had previously been scheduled for use by the lunar program—those two dozen new rockets and capsules initially envisioned were doomed before they were even built.
A close-up view of the Skylab space station in 1973 photographed against an Earth background from the Skylab 3 Command and Service Modules. This gallery tells a little more about the first US space station.


NASA

This view of Skylab in orbit was taken by the Skylab 4 (the last Skylab mission) crew.


NASA

Major areas of emphasis by Skylab.


NASA

This artist's concept is a cutaway illustration of the Skylab with the Command/Service Module being docked to the Multiple Docking Adapter.


NASA

Charles Conrad, Jr., Skylab-2 commander, smiles after a hot bath in the shower in the crew quarters of the Orbital Workshop of the Skylab space station. In deploying the shower facility, the shower curtain was pulled up from the floor and attached to the ceiling. The water came through a push button shower head attached to a flexible hose. Water was drawn off by a vacuum system.


NASA

This photograph was taken during the Skylab-3 mission, showing Astronaut Owen Garriott enjoying his meal in the Orbital Workshop crew wardroom.


NASA

Shown here is the Skylab food heating and serving tray with food, drink, and utensils. The tray contained heating elements for preparing the individual food packets.


NASA

This image of Skylab in orbit was taken as the third crew (Skylab-4) departed the space station after 84 days in the orbiting laboratory.


NASA
When President Nixon formally canceled the proposed Apollo 18, 19, and 20 missions in 1970, some of the surplus Apollo rockets would not even go into space. Rather, they ended up in museums in Texas and Florida (the Saturn V on display at MSFC in Alabama is made up entirely of test stages and has no flight-ready components).
The "wet workshop" plans also got scaled back to a "dry workshop," meaning the orbital laboratory was outfitted on the ground before being launched into space on top of the final Saturn V rocket to fly. This became the setting for three Skylab missions flown during the first half of the 1970s. Later, the final Apollo launch would occur in 1975, when US and Soviet crews docked in orbit as a goodwill mission.
Thompson, as manager of AAP and later Skylab, saw all of this unfold. He learned lessons about what happens to an agency's budget when the strategic national purpose for its existence—beating the Russians in space—ends with a mission that unites the two adversaries. Now, Thompson saw, NASA no longer served as a bulwark projecting US dominance over the Soviets. Rather, it was a diplomatic tether between the two nations.
The space shuttle
The peak of Apollo coincided with a new president as Richard Nixon moved into the White House in 1969. While Nixon could bask in the glow of welcoming the crew of Apollo 11 back to Earth after they landed in the Pacific Ocean, it also fell to his administration to determine what came next as the shine of Apollo faded.
"There was absolutely no understanding of where the nation was going to go in long-term human spaceflight," Thompson said of the end of LBJ's presidency, in 1968, and the beginning of Nixon's first term. The new administration asked NASA what it wanted to do. "So NASA begins to campaign that, we've been to the Moon, let's go to Mars," Thompson recalled. "Well that sounds simple enough. But you sit down and look at going to the Moon compared to going to Mars, it's apples and oranges."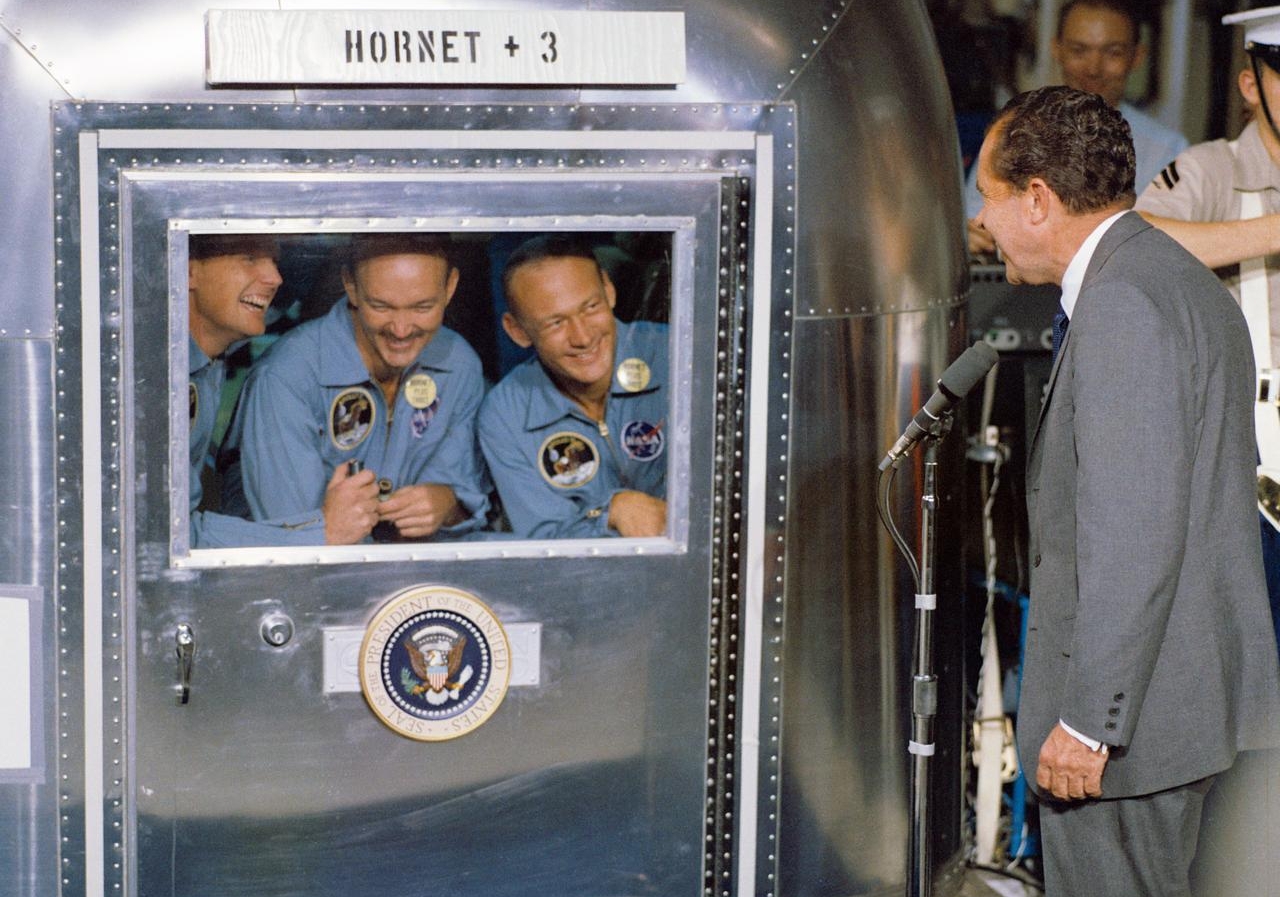 As the Vietnam War raged, the Nixon White House dictated that NASA's budget must shrink to 1 percent, or less, of the overall federal budget. The agency would have to find a way to squeeze a human exploration program in with that level of funding at the same time that costly robotic missions, such as the Voyager spacecraft, were planned for launch later in the decade.
Thompson and many others on the human spaceflight side of the space agency did their best to live in the new era. Under the guidance of Apollo engineering legends like Max Faget, the agency designed and developed a "Space Transportation System" architecture for human exploration. The first element of this was a reusable space plane that would carry crew and cargo into orbit—a space plane the public would know as the Space Shuttle. Over time, this space plane would facilitate construction of a permanently crewed space station.
Then, once the station was completed, NASA could use smaller, space-only vehicles to extend the reach of humans farther outward, to geostationary orbit and the LaGrange points. Along the way, the agency would develop fuel depots to store propellant and procedures for in-space refueling. Finally, NASA could develop a heavy rocket derived from the Space Shuttle known as "Shuttle C" to power a more permanent human return to the Moon. Under this plan, its designers hoped, NASA would trade the high cost and speed of Kennedy's Moon plan for something more sustainable.
In 1970, Thompson moved from Skylab to lead development of the Space Shuttle. He managed that program almost from its inception through its first flight in 1981. From his perspective, the future looked bright as NASA began to develop a smarter, reusable, and lower-cost option to extending the human presence into space.
"I thought we would be implementing a space transportation system to allow us to go from the surface of the Earth to the Moon and back," Thompson said. "Because until you have that, you're not going to do anything on the Moon."
Still searching
NASA never got beyond the Space Shuttle, of course. When the vehicle began flying, it cost more to refurbish between flights than the agency had intended. After one, and then two, fatal accidents, NASA decided to abandon the use of the Space Transportation System architecture. (The final decision was not ultimately made until 2009.)
The space agency also modified the orbital plans for the large space station, which originally was to be located at an orbital inclination easily reached from its launch pads at Kennedy Space Center. This was a bad spaceflight decision—but a political necessity. The International Space Station, which has only survived because Russia was brought on board as a partner, wound up at an inclination favorable to Russian launches from Kazakhstan. After the shuttle's end, NASA became dependent on these Russian launches to get its astronauts to the station.
It took decades, but NASA finally began building new deep space hardware in 2005, when work started on the Orion spacecraft, and again in 2011, with the Space Launch System to rocket it off Earth's surface. Both programs have been beset by high costs and delays. Amazingly, NASA may take two decades to develop Orion before it carries a human into space. (The first crewed flight of Orion is not likely before 2023, and further delays seem likely).
All the while, the space agency's budget has continued to flatten relative to the Apollo era. At the same time, its mandate and accompanying bureaucracy of ten field centers has swollen to include a vast array of planetary, solar, and Earth science missions. None of these are bad things to study, but the once nimble agency that built four different spacecraft in less than a decade—the Mercury, Gemini, and Apollo capsules, along with the Lunar Module—doesn't move quickly or cheaply today.
Even so, different presidents have set ambitious deep space goals for going back to the Moon or sending human missions to Mars. Perhaps NASA will, but on these budgets, with these bloated plans, progress is achingly slow and has allowed commercial companies such as SpaceX to out-dazzle the space agency at times.
For his part, Thompson is aghast at NASA's talk of sending humans to the Moon or Mars at a time when it cannot even launch humans into orbit from the United States.
"Now we're in a spacecraft business with the Russians," he said bitterly. "Are we going to Mars to prove to the Russians that we can go to Mars? Hell no. You're not going to get war-time funding to go to Mars. I don't care what anyone says. You're not going to take the funding back to the Apollo level. And until you take the funding level higher, and get on a crash course, you aren't going to Mars."
Adapt, or fade away
In some ways, NASA emerged from the Cold War on the losing side of the struggle. As relations between the superpowers thawed, the nation no longer needed NASA to demonstrate technological superiority. NASA became something nice for the country to have—having a functioning space program is a key item on the "world superpower bucket list," which is one of the reasons why China is pushing so hard and fast on its own orbital efforts—but putting people in orbit has not proven to be any kind of strategic necessity.
Perhaps a low-Earth orbit space program is all we can hope for from NASA today. President Nixon's choices set human exploration on a path it has more or less followed for half a century, and maybe this is it. Maybe there are no suitable encores to Apollo, which shone so brightly, that NASA may never find comparable brilliance. After five decades, the White House and Congress have yet to identify a deep space plan for human spaceflight, fund that mission, and stick with it.
In an Apollo conversation with space historian Dr. Asif Siddiqi, the Fordham University professor went so far as to say that by going so far so quickly, the Apollo program might ultimately have done humankind a disservice—we got to the Moon in a stunning display of technical mastery and willpower, but the Apollo model falls apart without constant outside pressure. By letting us run before we knew how to walk, Apollo might have saddled the country and the world with a wildly unrealistic picture of what a functional, sustainable space program should look like.
Meanwhile, NASA's overhead costs have risen so high, and its plodding pace of development for new spaceflight hardware takes so long, that there is no funding left over to actually put new vehicles into use for human missions to the Moon, or to Mars—and no sense of urgency to do so, either. Warring fiefdoms weigh heavily on progress. Often, key spaceflight centers in Texas, Alabama, Florida, and California, along with their elected officials, squabble over funding and control, echoing the dynamic that dates to 1965 and Wernher von Braun's concerns for more work for Marshall Space Flight Center.
The rise of commercial spaceflight, which NASA has spurred by providing contracts for services such as cargo delivery to the space station, offers some hope for the national aerospace enterprise. In an echo of NASA's early nimble days, these private companies have the advantage of a Silicon Valley mindset instead of the government's sluggishness. They're focused on cutting cost and increasing efficiency.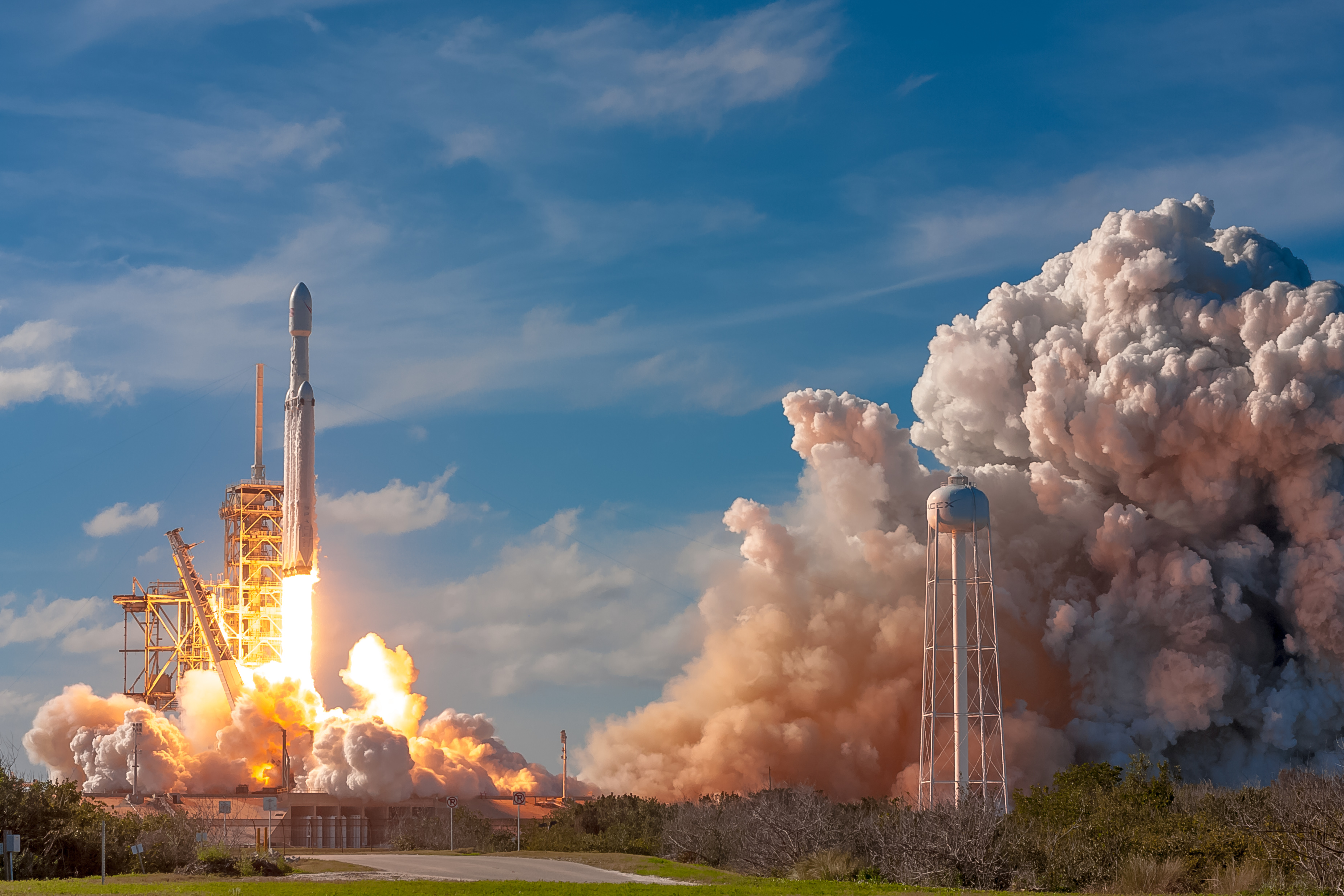 This has led to a radical departure from NASA's approach to deep space exploration. When Elon Musk's SpaceX and Jeff Bezos' Blue Origin sought to drive down launch costs, they eschewed the Apollo model of building a huge rocket and expending all of it in a single flight, moving instead to develop reusable rockets. Meanwhile, NASA presses on, spending $2 billion annually to develop the fully expendable SLS rocket.
If these companies succeed, which seems more likely now after the recent Falcon Heavy launch, NASA will face a reckoning. Congress still sees NASA as the agency that built a huge rocket and landed on the Moon, but times change. The extent to which NASA is allowed by Washington, DC to reconcile its future exploration plans with the efficient models of modern-day launch businesses will figure heavily into determining the agency's relevancy in coming decades.
For the first 50 years after humans landed on the Moon, it was enough for NASA to lumber along and occasionally do great things in human spaceflight and planetary science. Now, the world is finally catching up to the amazing momentum built by the men and women of Apollo during the 1960s. NASA must now adapt, and adapt pretty soon.
US policymakers in the White House and the halls of Congress need to finally recognize Apollo as a grand historical event, or a singular moment in time, rather than a model for future exploration. Failing that, it seems likely that the 21st century space race will be won by China's steady expansion—or somewhat more optimistically, by US technology moguls and their brave new ideas.